I'm thinking of possibly selling my Skydio 2+ and its accessories.
It has never been crashed and is in excellent condition.
Skydio 2+
Sandisk Extreme 128 GB Micro SD Card
Skydio Controller
Skydio Beacon Remote
Skydio USB-C to Lightning cable
Skydio USB-C to USB C cable
Handlebar mount for Beacon
3 Skydio 2+ Lithium-Ion Batteries
1 Skydio 2 Lithium Ion Battery
Dual battery Charger with cable and power brick
Freewell ND/PL filters (8.16,32,64)
2 Extra Propellers
Skydio 2 Soft Travel Case
Skydio Lens Cleaning Cloth
If interested, please message me for cost and more pictures. I live in middle Tennesse, and I would rather not ship.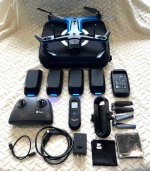 Last edited: