Decided to open a separate topic about Skydio 2 motors.
Sooner or later your motors will go out due to water, age or shatter. In my case it was both, rusted and shattered against the rock. Shipping the drone for out of warranty repair for one motor seemed to me a waste of money, I could replace it myself. But of course Skydio uses proprietary design and they wont sell parts.
After spending a day looking at 3rd party brushless motors to match the design, I couldn't find any.
I have an idea to try to replace all 4 motors of Skydio with for example DJI Mavic Pro, like these on
ALiExpress
which are available to buy, along with their propellers, because changing only one motor will lead to unbalance.
Does anyone know real KV of stock motors?
Contributions to the topic are welcome.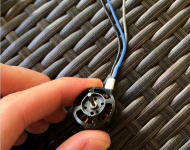 Last edited: