Joined

Dec 5, 2021
Messages

157
Reaction score

88
I ordered several items from Dirty J Designs for my Skydio 2 in early December 2021. Due to severe shipping delays I have just recently had delivery. I have never used the items as I returned my Skydio 2 to the company under their 30 day trial BEFORE these items arrived. There are several posts here about this companies products:
I paid $138.88 CDN - $105.55 US for the items and delivery to Canada. I would prefer selling to a Canadian to avoid the expense and paperwork required to send to the USA.
I am asking half of what I paid $70.00 CDN - The prices of items on the Dirty J website have not changed and a Canadian will pay the same shipping as the company ONLY uses USPS for shipping. I will also cover UP TO $10.00 CDN in shipping as I assume that I can send it anywhere In Canada via Canada post for that. If the purchaser requires a different shipping method or options the total shipping cost might not be covered.
Please PM me if you are interested.
Thanks
These are the items I ordered: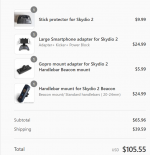 My transaction record in CDN $::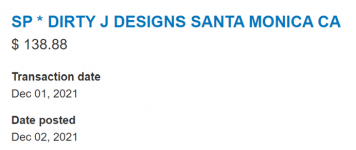 Item description and pricing on Dirty J website as of today Jan 7, 2022
Handlebar mount for Skydio 2 Beacon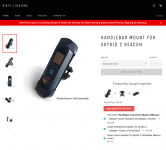 Stick protector for Skydio 2