Joined

Dec 7, 2020
Messages

159
Reaction score

53
Took S2 out for a follow me session in some pretty wide open national forest, but there were a few groves of trees to go through. This was only 4th flight session for S2, so with the trees its gettin a quick indoctrination.
Anyway, it did great in the trees. Wound through some stuff thats actually kinda scary to watch. It got stuck twice when the path it selected was too dense. Once it went down to find a way through, but I think the height floor actually prevented it from going under what it was 'looking at'. I flew it out both times and continued on. All was well, till I messed up late in the flight..thats the reason for the question, but first:
An issue
- the footage is too saturated. Its like HDR is on, but its not. Has anyone noticed that issue post update? I'm thinking its this drone's camera. I'm running the same filter I had always used before (ND8). With my other drone, I think I always set the exposure to -.5....I did that with this one on the 2nd flight (pics below from 1st flight) and the footage is a little dark. Again, the issue is color saturation...its too much and will hafta be edited down.
Examples:
The soil was a little reddish, but not that red.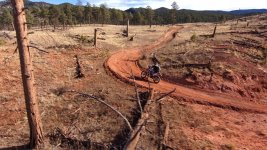 Similar...the grasses weren't that yellow...the trees look ok and so does the trail....its just a little too much saturation. Wish I had phone pics for comparison.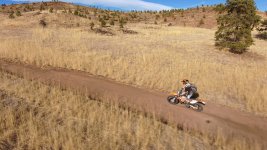 Question
- Did the update eliminate the settings for where S2 is supposed to go if/when we lose connection with the drone? Used to be, you could have it return to launch point or last point where it had GPS signal. I can't find those settings!
I had an incident today (my fault) where S2 was returning to (I dunno where it was going) and I got near it and watched it land itself in a grassy area (like pic above). Was close call #2 for me. But where was it going? Looked like back to launch point, but I dunno! It didn't even get close.
I have the return behavior sliders all the way right, so max delay before it takes off and max delay before landing and 20 mph return looking where its going....its battery was dying so it landed. My thinking on those settings was to give me max time to get to it, but it didn't seem to work. It didn't get close to whereever it was going....my Mavic knew how much battery it needed to return and flew accordingly...or was supposed to anyway....I never tested that aspect.