Joined

Nov 18, 2019
Messages

129
Reaction score

87
Recently, Purshased a new Alientech 5.8 GHz booster. For some reason, can't get it to operate correctly.
Have an old spare same type Alientech 5.8 GHz booster, only it's fired and that happened on its first powering on (smoked). when I ordered it used from an individual, Both of the two amplifiers smoked on its first use.
This week, removed both amplifiers from from the original defective Alientech, replaced them with two Parrot Anafi 5.8 GHz boosters from Solaris , he used to build power amplifier setups for both Parrot Bebop 2 and Anafi. Luckily, of all the Parrot amplifiers I have two are 5.8 GHz the rest are 2.4ghz.
Removed all guts from original Alientech booster, mounted two Parrot 5.8 GHz amplifiers, replaced all antenna cables and connectors with same type on the Anafi. Added a push button switch, Battery voltage Light LED.
Flew several flights, manual 157 and 161 appear to be the strongest channels. So far, Very impressed with the performance especially in areas with inference.
Going to contact my Alientech dealer, send back the recent purchase Alientech 5.8 to be tested. Hopefully, he'll figure out what's wrong with it. For now, at Ieast will have a good working one even if it's put together from spare parts.
Before I forget, managed to use original battery setup wired in series as these two boosters need a minimum of 7 to 8 volts to operate correctly. And used original 5.8 GHz Alientech antennas, luckily everything pieced together well.
Thanks for looking,
Paul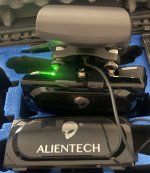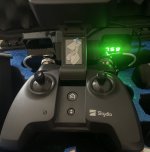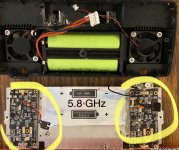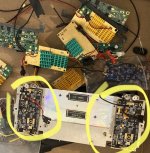 Last edited: