Joined

Dec 3, 2020
Messages

64
Reaction score

28
Hi, I've tried today to get a reservation - several times with few credit cards (non-US issued) and wasn't able to complete the order. Technically saying, it was sending me a confirmation of purchase and in few seconds it also made a cancellation and money were returning back to the credit card.
Also a cancellation of order and 'refund' email was also coming through to email.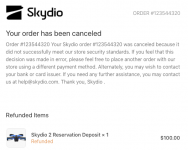 Could someone else who use non-US and non-Canadian issued credit cards confirm they also experience same issue? It started to happen since 1st of June, as on 30 or 31st of May I was able to purchase an item without issue.
This the response I got on the opened ticket: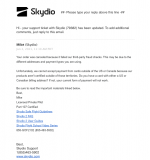 Mike
(Skydio)
Jun 2, 2021, 11:10 AM PDT
Your order was canceled because it failed our third-party fraud checks. This may be due to the different addresses and payment types you are using.
Unfortunately, we cannot accept payment from cards outside of the US or Canada because our products aren't certified outside of those territories. Do you have a card with either a US or Canadian billing address? If not, your current form of payment will not work.
Be sure to read the important materials linked below.
Best,
Mike
Last edited: