Joined

Dec 1, 2021
Messages

151
Reaction score

84
I don't see how in this video that the starting of the cable cam caused the disconnect. Maybe I'm missing something.

At the beginning of the video your signal strength "radar" icon was as low as it gets (a dot with occasionally one curved line) and the video feed seemed very pixelated. Both solid indications you are are on the brink of a disconnect.

After flying like that a bit THEN you selected cable cam.

Yes you were not far away but you were having a problem BEFORE you selected an option that Skydio warns you not to pick if your using beacon and phone.

I fail to understand what you are trying to prove and have Skydio acknowledge is a problem????
1. I've done careful tests many times and also updated that Cable skill is ok to run with the combination of Beacon + Phone operation mode.
2. It is NOT about disconnection or weak signal only. It is also about the unexpected and that's what I want to highlight.
Timeline / Event
0:00 - 0:46 / Manual mode and far distance test <-- This is for creating the baseline of the test.
0:46 / Go back and start cable skill and set "A" point (It is the far point)
0:59 / Pull back and set the "B" point (It is the near point)
(It forced screen rotation to portrait)
1:03 / Cable was executed and it flew to "A" (from near point to far point)
( Until now, it was ok )
1:05~1:06 / The screen started stopping and then the connection was just broken suddenly and repeatly.
As you can see in the incident process. It was ok at the far point but broke the connection in near point. And, it broke so suddenly. How could possible this is normal!!
By the way, In the test, at first, I did a long-range flight and I flew it to about 120M. I did that is to made sure the test is within a safe range.
3. Please don't mention the "pixelated" to me or question me like so.
How I can know it before I own it?
In Skydio's official technical document, it suppose to be able to fly to 2KM with beacon operation!
It is now even not close to 20% of the range!!
4. Hey... I don't know what Skydio's image in your mind. But for me, it is a US company.
Since that, it supposed to be
(1) Creditable
(2) Integrity
(3) High quality
(4) Innovation
I posted the video is for Skydio's inspection.
That also means I am planning to purchase next-gen Skydio but not the same situation!
If it is a car, with the standard of the automobile industry, the kind of product quality has already been recalled.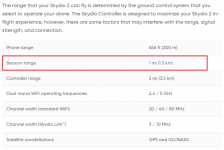 Last edited: