Joined

Dec 5, 2020
Messages

38
Reaction score

27
I just received an email from Drone Deploy with some bad news for Skydio pilots.
Unfortunately flight planing and flying with Drone Deploy for mapping missions won't be possible soon. This is quite a loss of capability for doing mapping missions and 3D modeling.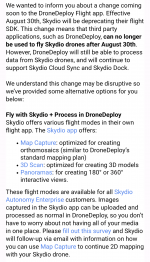 The Skydio2 is a great drone for close range flying to create orthophoto maps and 3D models. I really hope Skydio opens up another avenue for free flight mapping planing software through some other means without requiring a pilot to buy an Enterprise license. If they don't, Ill be really unhappy with Skydio because my drone will have just lost a lot of capability it had when I made the decision to buy it 2.5 years ago. According to the email the reason behind the change is Skydio deprecating their SDK. Very sad.